This has been a crazy year for weather with flooding and tornadoes. Until now, there would be no reason for these horrifying storms to make it onto this blog, but yesterday
Churchill Downs
was hit by a bad storm.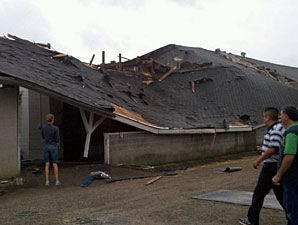 While many barns and backside buildings underwent great damage, luckily (as of tonight) no horses nor humans were hurt in the storms. Due to the destruction, many horses escaped their stalls and were running loose around the grounds, but all have been safely caught. Neighboring tracks are opening their stalls and so far racing has been canceled.
For more picks, try this link to the
Kentucky Derby's Facebook Page.
What a rough spring/summer this has been!
(Picture from Bloodhorse.com)